Jaishankar made new Foreign Secretary
New Delhi: In a sudden development, S Jaishankar, India's Ambassador to the US, was tonight appointed Foreign Secretary, replacing Sujatha Singh whose tenure has been abruptly 'curtailed" by nearly eight months.The surprise announcement was made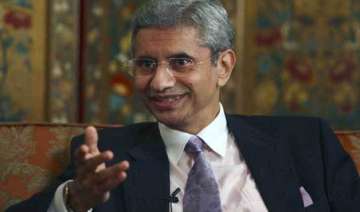 PTI
January 28, 2015 23:50 IST
New Delhi: In a sudden development, S Jaishankar, India's Ambassador to the US, was tonight appointed Foreign Secretary, replacing Sujatha Singh whose tenure has been abruptly 'curtailed" by nearly eight months.
The surprise announcement was made after a meeting of the Appointments Committee of the Cabinet chaired by Prime Minister Narendra Modi. Singh's two-year tenure was to end in August this year.
A late night official announcement said, "curtailment of tenure of Ms Sujatha Singh, IFS batch 1976 as FS with immediate effect".
"Appointment of S Jaishankar, IFS batch 1977, as Foreign Secretary vice MS Sujatha Singh with a tenure of two years from the date of assumption of charge or until further orders, whichever is earlier, in keeping with the provisions of FR-56(D)," the announcement said.