44 dead, 25 injured in floods says Jammu and Kashmir govt
Jammu: Over 40 people were killed and 25 others injured in the recent landslides and flash floods in the state, Jammu and Kashmir government today said.  Minister for Revenue Javaid Mustafa Mir said this while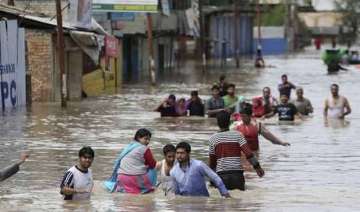 PTI
April 08, 2015 23:01 IST
Jammu: Over 40 people were killed and 25 others injured in the recent landslides and flash floods in the state, Jammu and Kashmir government today said.  Minister for Revenue Javaid Mustafa Mir said this while replying to a Calling Attention Notice by Ali Mohammad Sagar in Legislative Assembly.
"As many as 44 persons lost their lives and 25 got injured. 12,565 structures have been damaged fully, severely and partially, and 680 cowsheds also got damaged. Besides, 862
cattle also perished", Mir said.
 
He said that due to unprecedented rainfall and snowfall followed by flash floods, Landslides and avalanches last year, severe loss to life and property took place in the state.  The Minister said many areas in villages have become unsafe for living due to landslides and land sinking.  He said 211 camps have been established in the state and 2,907 families evacuated, 1,474 tents built, 3287 blankets have been provided to the affected families who have become homeless.
The minister said in District Srinagar, 893 structures have been damaged, out of which 18 houses have been fully damaged, 245 severely and 630 partially damaged.  He said in Khanyar constituency, 103 houses have been damaged, out of which 03 houses are fully, 20 severally and 80 houses have been partially damaged.
Mir said that an amount of Rs 35 cr has been released to Divisional Commissioners of Jammu and Divisional Commissioner Kashmir for providing ex gratia and for temporary restoration of critical public utilities on a war-footing.  He said the ex gratia has been provided to the affected families as per the State Disaster Response Fund (SDRF) norms.
He said the assessment of loss and damages is in progress throughout the state by inter-departmental teams and relief is being and will be provided to the affected families throughout the state including Khanyar constituency as per the norms.  Meanwhile, the government today also said that a Rs 401-cr detailed project report (DPR) for urgent work was submitted to the Centre in the month of February and an approval is awaited.
"In order to avoid the re-occurrence of such floods in future, a detailed project report with an estimated cost of Rs 401 crore for urgent works carved out of the main project stands submitted to the government of India in the month of February," Minister for Public Health Engineering and Irrigation and Flood Control Sukhnandan Kumar told the Legislative Assembly.