Jayanthi Natarajan red flagged 350 projects
New Delhi: As many as 350 projects were kept on hold during Jayanthi Natarjan's stint as environment minister, the files included not only private but public and defence projects also.She was sitting over the files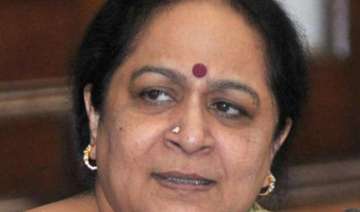 India TV News Desk
January 31, 2015 13:58 IST
New Delhi: As many as 350 projects were kept on hold during Jayanthi Natarjan's stint as environment minister, the files included not only private but public and defence projects also.
She was sitting over the files which had approval of expert committee and by the time Congress realized the consequences of keeping files on hold, it was too late. Although before model code of conduct came into force, her successor M. Veerapa Moily cleared some crucial projects, worth over Rs. 1.5 lakh crore.  
Moily cleared ground for the largest ever foreign direct investment by green signaling steel giant Posco's Rs 52,000 crore plant in Odisha. The South Korean firm waited eight years for this clearance.
The government had also laid down certain conditions for clearance where the company would have to spend on "social commitments" and delink the plant from its port projects. The company readily accepted these terms which also included raised project cost.
An official involved in the process said, "If the government had got it done in January, 2014 by making certain rooms for it through conditions, it could have easily done it before.It shows the project got stuck because the government of the day might have opted for it."  
Moily quickly approved many big ticket projects within 30 days of taking additional charge as environment mister in December, 2013. During Natrajan's tenure as Environment minister, these projects were kept in shelf citing different pretexts.