Jethmalani vents anger in SC over govt 'inaction' on blackmoney
New Delhi: Expelled BJP member RamJethmalani today vented his anger in the Supreme Court against the NDA government on the black money issue, expressing displeasure that a draft legislation prepared by him and sent to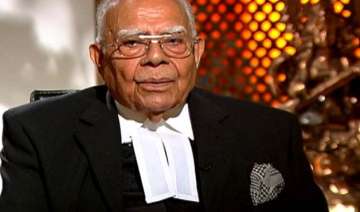 PTI
January 20, 2015 21:24 IST
New Delhi: Expelled BJP member RamJethmalani today vented his anger in the Supreme Court against the NDA government on the black money issue, expressing displeasure that a draft legislation prepared by him and sent to Prime Minister Narendra Modi has not been acted upon.  The veteran lawyer's outburst came soon after a bench headed by Chief Justice H L Dattu dictated the order on his petition on the black money matter.
Jethmalani sought its permission and expressed anguish over the efforts of the government in the last six months to bring back black money stashed in foreign banks.  "It is my sense of total displeasure that these proceedings are becoming adversarial. I am not here for recovering my money, but the money of the nation. Without legislation nothing will happen," he said.
"The SIT told me to draft a legislation. I sent it to the SIT and to the Prime Minister. It is a matter of regret that I have not heard one word from the Prime Minister. He merely passed it on to the Finance Ministry.
"I want to know from this government whether they want to have a legislation or not. It will be a part of legislation or not or will I have to make a public outcry," he said.  "What do I do except to advise and if you don't accept the advise, I will have to go before the sovereign people of this country," Jethmalani said.