'Jhadu ki Yatra' exhibit to chart evolution of humble broom
New Delhi: A historic social institution here is working on tracing the journey of the humble broom in the last 80 years as part of its plan to build a permanent exhibit to showcase the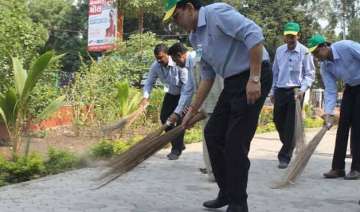 PTI
April 05, 2015 18:37 IST
New Delhi: A historic social institution here is working on tracing the journey of the humble broom in the last 80 years as part of its plan to build a permanent exhibit to showcase the evolution of sanitation methodologies in the country and Mahatma Gandhi's contribution to it.
Harijan Sevak Sangh, established by Gandhi in 1932, and which served as his laboratory for engineering a social revolution, has decided to chronicle the changing face of the now ubiquitous household item over the decades and the empowerment that it brought parallely.
"The journey of a broom is also a journey of the changing norms of sanitation in the country. And, besides educating the masses, the idea of this exhibition also is to tell people the challenges that the Sangh faced and how Gandhi and later his followers fought against social evils by advocating sanitary measures," Harijan Sevak Sangh Secretary Laxmi Dass told PTI.
The project is being tentatively called 'Jhadu ki Yatra (Journey of a Broom)' and the Sangh is currently consulting its Ahmedabad-based 'Safai Vidyalaya' to come up with a conceptual plan for the same.
"At the 'Safai Vidyalaya' we train people from municipal corporations and other related fields, which deal with sanitation issues, and these people there are helping us come up with the plan. They are digging into archives and old books and magazines to trace the evolution of a broom and also the Sangh's contribution over the years," Dass said.
Gandhi despised untouchability and saw manual scavenging as the prime reason for it and he founded the ashram (Sangh) to lend a conducive environment for the uplift of the oppressed classes or 'Harijans' as he called them.
"Our exhibition, located on our campus, will depict contribution of Gandhiji and his followers like Ishwarbhai Patel in changing the societal norms of sanitation through removal of inhuman practices like manual scavenging and using sanitation as a way to social empowerment," he said.
While the pedestrian broom may have lately become a potent symbol of political power and a mascot of anti-corruption campaign, its face in the 1930s was "less than humble."
"During the time Gandhiji founded this ashram, there wasn't much concept of a branded broom, as we know it today.
Most of it was locally-made, using jute, date or coconut strings or 'bhaburh' grass (found in the Shivalik hills)," he said.
"Though it is difficult to trace the very origin of the broom in India, we will see if we can also chart that. But, otherwise we are focussing on the period from the 1930s to the present," he added. Dass said, "Gandhiji and others working with him or after him also suggested changes in sanitation models, and the exhibition would also chronicle that."
"As exhibits, we will be using old photographs, replicas and scale models, among others. We will try to trace original old brooms, if existing or stocked somewhere, if not we will try to source the material and create a replica. We will also have scale models, among other display materials," he said.
He said the Sangh's teachings have also been to tell people the "values that Gandhi stood for, of equality and of human dignity, and sanitation, for him, was a way to achieve that goal."
Dass further said that the Sangh's teachings also have been to make people aware of its "waste-to-wealth" policy.
"Human waste for us is 'swarn khad' (golden manure). Our legacy, as far as designing of toilet pans are concerned, is mixing beauty with utility. While the toilet seats should look good, they must also serve a purpose. And, our exhibition will depict them," he said.
Spread over 27 acres of land in the historic Kingsway Camp area in north Delhi, the ashram also has a "toilet gallery", envisioned by Gandhi, which was established by Ishwarbhai Patel in the 1960s.
"Gandhiji saw sanitation as a road to social empowerment. He saw creation of toilets as a means to abolish untouchability as sanitation work was something which the society thought should be done by low caste people."
"And, therefore he envisioned this 'Shauchalaya Pradarshni (toilet gallery)' in the ashram's campus to educate people about sanitation and its positive effects on society," Dass said.
The ashram was born out of the historic Poona Pact between Gandhi and Babasaheb Ambedkar.