Jharkhand CM urges Goyal to accelerate Deoghar power project
Ranchi: Jharkhand government today asked the union power ministry to issue a direction to Power Finance Corporation to accelerate work on the 4000-MW mega power project in Deoghar district.In a letter to Union Power Minister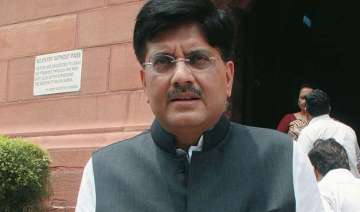 PTI
April 08, 2015 20:22 IST
Ranchi: Jharkhand government today asked the union power ministry to issue a direction to Power Finance Corporation to accelerate work on the 4000-MW mega power project in Deoghar district.
In a letter to Union Power Minister Piyush Goyal, Chief Minister Raghubar Das requested a direction from him to the Corporation for speeding up the project so that it could be completed within the time frame.
Expressing dissatisfaction at the tardy pace of its work, Das said despite the Deoghar administration asking Rs 256 crore from PFC's subsidiary unit, Deogar Mega Power Limited (DMPL), against acquisition of 1,652 private acres of land, the amount had not yet been given.
Informing that though the process of handing over 321.15 acres of government land has begun, Das said the DMPL had not yet given some details.
The DMPL, Das further said in his letter, had also not clarified certain points asked by the Deoghar divisional forest officer on 282 acres of forest land.
The DMPL did not even take interest when Deogarh Deputy Commissioner directed revenue and police officials to cooperate and help the subsidiary unit, the letter said.
Das said the state had already given permission for the project and that PFC would have to arrange meetings with various departments on water allotment.