JKNPP calls for 'Jammu bandh' on April 24
Jammu: Jammu and Kashmir National Panthers Party (JKNPP) today called a 'bandh' in Jammu region on April 24 to protest against shifting of AIIMS from here to Kashmir."JKNPP announces 'Jammu bandh' on April 24 in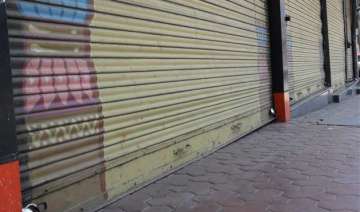 PTI
April 21, 2015 18:16 IST
Jammu: Jammu and Kashmir National Panthers Party (JKNPP) today called a 'bandh' in Jammu region on April 24 to protest against shifting of AIIMS from here to Kashmir.
"JKNPP announces 'Jammu bandh' on April 24 in protest against denial of the region a prestigious AIIMS project due to surrender of BJP to Kashmir centric politics," JKNPP Chairman and former minister Harsh Dev Singh told reporters here today.
Singh, flanked by state JKNPP chief Balwant Singh Mankotia and Young Panthers state president Yash Paul Kundal, lambasted the BJP-PDP coalition for perpetuating the policy of bias against Jammu region by shifting Rs 1600 crore prestigious project to Kashmir despite it being sanctioned for Jammu.
"Everything is being taken away to Kashmir after having robbed Jammu of the prestigious AIIMS project," Singh said.
He made an appeal to the Chamber of Commerce and Industry, Bar Association besides other political and social bodies to take the lead the bandh on April 24, on the concluding day of civil Secretariat.
Jammu was being promised an AIIMS for the last several years but the final announcement having been made on February 28 in New Delhi by two Union ministers in very explicit and unambiguous terms that AIIMS has been sanctioned for Jammu and that the most coveted demand of Jammu stands fulfilled.
Singh said, it was shocking to note that the AIIMS project was pusillanimously surrendered to Kashmir by the highly relenting BJP only to appease its coalition partner for the lust of power.
What was most reprehensible was the criminal silence of mandated leaders of Jammu, he said, who failed to utter a single word inside the legislature as well as outside against the shifting of Rs 1600 crore premier health institute to Kashmir.
Lampooning the 'cowardly' acquiescence of BJP to the dictates of PDP on all issues, Singh said that the Saffron party was giving one shocker after the other to the people of Jammu region.
He also accused the BJP of conceptualising a highly treacherous and retrograde policy on recruitment in connivance with its coalition partner.
Slamming the coalition government's recruitment policy, Singh said it was the most cruel joke to be played with the unemployed youth of the state.
Balwant Singh Mankotia admonished the BJP for compromising on all issues quite unmindful and deliriously oblivious of the tall commitments made by the saffron party to their voters.
He regretted that BJP has compromised on its principles and promises only for the lust of power thus leaving the people of Jammu region in lurch and providing the most glaring example of gross betrayal and political debauchery.