JNU row: Delhi Police issues alert following Hafiz Saeed's tweet backing 'pro-Pak' protesters
New Delhi: In the backdrop outrage over JNU Students Union president arrest, the Delhi Police on Friday issued a country-wide alert cautioning people not to get carried away by seditious anti-national rhetoric.The alert was issued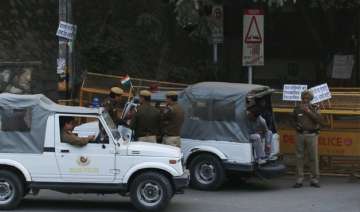 India TV News Desk
February 13, 2016 8:22 IST
New Delhi: In the backdrop outrage over JNU Students Union president arrest, the Delhi Police on Friday issued a country-wide alert cautioning people not to get carried away by seditious anti-national rhetoric.
The alert was issued following a tweet by an account-linked to Pakistan based terrorist Hafeez Saeed asking Islamabad to support JNU students protest against the hanging of Parliament attack convict Afzal Guru.
In it's message, the city police also shared the content of the tweet which reads: "We request our Pakistani Brothers to trend #SupportJNU for our pro-Pakistani JNUites brothers."
The handle used to share the tweet was @HafeezSaeedJUD, but it couldn't be verified if the tweet came from Saeed as it was soon deactivated.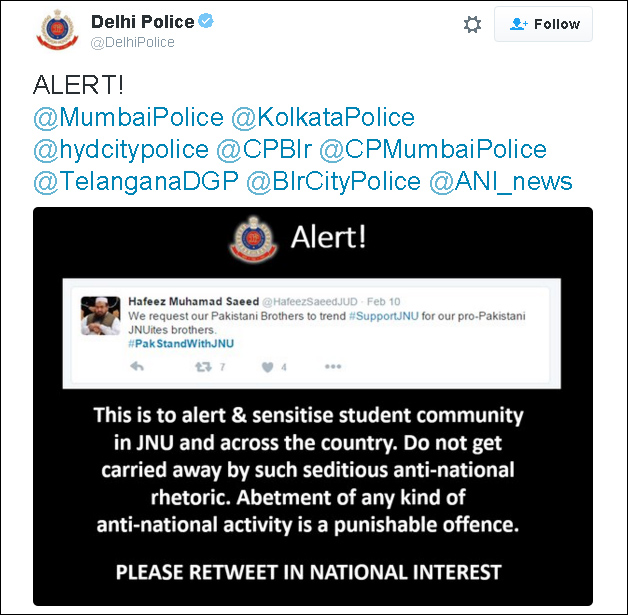 The development comes hours after University Student Union president Kanhaiya Kumar was arrested after police picked him up for questioning. A case against 'unknown persons' was registered under Section of 124 A (sedition) and 120B (criminal conspiracy) of IPC at Vasant Kunj (North) Police station following complaints by BJP MP Mahesh Girri and ABVP.
Kumar, however, denied that he had shouted anti-India slogans. He said he was there to prevent a possible clash between ABVP workers and protesting students. "I dissociate myself from the slogans. I have full faith in the constitution and I always say that Kashmir is an integral part of India," said Kumar, who is from the All India Students Federation, a Left-linked students outfit.
He said the slogan-shouting people were outsiders and he didn't know them. The university campus has witnessed events in support of Guru in the past as well.
The fresh protest sparked outrage in the capital with an angry government on Friday saying it 'will not tolerate any anti-national activities in the country' .
"Stringent action must be taken against (those) who raised anti-India slogans in JNU," Home Minister Rajnath Singh told reporters here.
Human Resource Development Minister Smriti Irani also condemned the protest. "I only want to say that today is the day of worship of Goddess Saraswati. Saraswati blesses every family that whatever they speak is for progress and strengthening the nation. Let mother India be praised. The nation will never tolerate an insult to mother India," she said.
The arrest and police crackdown on JNU campus drew sharp reactions from opposition parties. "What is happening in JNU? Police on campus, arrests and picking up students from hostels. This had last happened during Emergency," Sitaram Yechury, CPI-M general secretary, said.
The CPI-Marxist party also denounced the 'arrest of (the) Left and progressive student leader'. "The presence of police in the campus and such indiscriminate arrests had last happened during the Emergency," a CPI-M statement said.
The left-dominated JNU Students Union distanced itself from the controversial event at the campus. It said its members 'hold no brief for those who raised objectionable slogans'.
"This is reminiscent of the dark days of the Emergency when the state had swooped down on the campus and had arrested many on false and trumped up charges," a JNUSU statement said.
The university administration claimed that it had cancelled permission for the event, which was allegedly pitched as a cultural function.
A group of students had on Tuesday held an event on the JNU campus and shouted slogans against the hanging of Afzal Guru in 2013. Students had also pasted posters across the campus inviting people to a protest march against 'judicial killing of Afzal Guru and Maqbool Bhatt'.