JNU student clash over event to commemorate Afzal Guru's hanging
New Delhi: The left wing activists of Jawahar Lal Nehru University called a meet to commemorate Parliament attack convict Afzal Guru's death anniversary,prompting strong protest from rival ABVP students. The situation turned violent and Police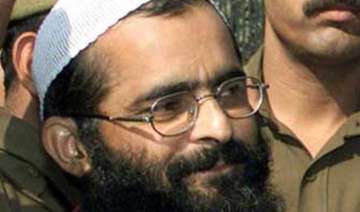 India TV News Desk
February 10, 2016 10:46 IST
New Delhi: The left wing activists of Jawahar Lal Nehru University called a meet to commemorate Parliament attack convict Afzal Guru's death anniversary,prompting strong protest from rival ABVP students. The situation turned violent and Police were later deployed on campus to restore order.
According to Indian Express,the incident occurred at the tail end of a cultural evening organised by 10 students, formerly of the Democratic Students' Union (DSU), at the Sabarmati Dhaba, against the execution of Afzal Guru and separatist leader Maqbool Bhat, and for Kashmir's right to "self-determination".
"We had earlier granted permission for a cultural evening, because we were not informed about the topic. When we were told it was in favour of Afzal Guru, we had to withdraw. The government of India hanged him after declaring him a terrorist. How could we allow them to organise an anti-Indian programme," The daily quoted JNU registrar Bupinder Zutshi as saying.
A poster, which was pasted all across the campus, read: "There will be an art and a photo exhibition portraying the history of the occupation of Kashmir and the people's struggle against it."
While the organisers originally got permission to hold the event, it was withdrawn after the Akhil Bharatiya Vidyarthi Parishad (ABVP) complained to the administration.
Interestingly, the commemorative meeting went ahead even after the JNU administration revoked permission for the programme in the wake of complaints from Akhil Bharatiya Vidyarthi Parishad (ABVP).
Outraged at this, the ABVP has called upon its cadre to impose a general bandh on the JNU campus on Wednesday.