Hospital chain offers jobs to nurses returning from Yemen
Kochi: UAE-based Aster DM Healthcare, headed by leading medical professional Azad Moopen, on Saturday offered jobs to Indian nurses who have recently returned from Yemen.In a statement issued here, the company said it is willing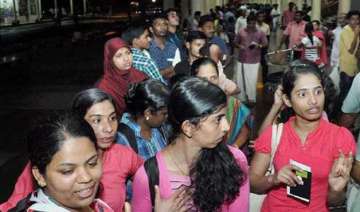 IANS
April 11, 2015 17:15 IST
Kochi: UAE-based Aster DM Healthcare, headed by leading medical professional Azad Moopen, on Saturday offered jobs to Indian nurses who have recently returned from Yemen.
In a statement issued here, the company said it is willing to provide jobs to these nurses in their numerous hospitals in Kerala and in the Middle East.
In the past 10 days, close to 2,000 nurses from Kerala have been brought back from Yemen.
The health care major said although the nurses returned from Yemen, their future remained uncertain with financial problems and job loss and hence they have opened a dedicated helpline number 8111998095 and a registration cell has been opened at Aster Medcity here in Kochi.
"Those interested to return to the Middle East... the group will try its best to accommodate them in their hospitals and clinics in the UAE, Oman, Qatar and Saudi Arabia if they fulfil the local licensing requirements," said the company release.
They had offered similar opportunities for Kerala nurses who returned from Iraq and Libya last year.