Jodhpur Hospital Rat Bite Case, Probe Committee Seeks More Time
Jodhpur (Raj), Jan 13 : A three-member panel set up by Mathura Das Mathur government hospital here to probe the case of an elderly paralysed patient sustaining injuries after allegedly being bitten by rats has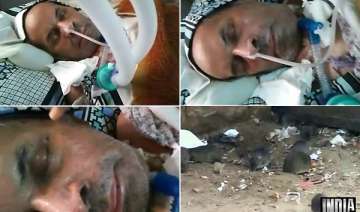 India TV News Desk
January 13, 2012 7:27 IST
Jodhpur (Raj), Jan 13 : A three-member panel set up by Mathura Das Mathur government hospital here to probe the case of an elderly paralysed patient sustaining injuries after allegedly being bitten by rats has sought more time to submit its report.

The hospital superintendent Arvind Mathur said the committee needed more time to arrive at a decision whether the 70-year-old man was bitten by rats.

The patient, who was on ventilator support, was found seriously injured by family members on Tuesday morning with his ears, lips and nose bitten.

On the basis of an interim report, the hospital administration had issued notices to the sanitation contractor and pest control contractor and a reply had been sought till today.

The caretaker of the hospital has been put on APO with immediate effect and matron incharge, nursing incharge and nursing staff on duty have been issued a warning.

Meanwhile, state Health minister A A Khan has termed the incident as unfortunate and has assured that strict action will be taken against erring staff after the submission of the detailed report.

Khan has also issued directions to the hospital administration to ensure proper sanitation and asked for the completion of all the works related to repair, maintenance and modernisation as soon as possible.

Refusing to comment, Union Health minister Gulam Nabi Azad has termed the incident as a issue for the state to look into.

In its interim report, the committee has suggested a slew of measures which include disposal of garbage and unused articles, increasing the number of staff during night shift

and a maintained sewerage system to keep rats from entering the hospital.