Judicial Custody Of Italian Marines Extended
Kollam (Kerala), Apr 16: A court here today extended by another 14 days the judicial remand of two marines of Italian ship 'Enrica Lexie', charged with gunning down two Indian fishermen off the Kerala coast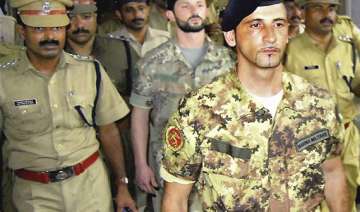 PTI
April 16, 2012 17:43 IST
Kollam (Kerala), Apr 16:
A court here today extended by another 14 days the judicial remand of two marines of Italian ship 'Enrica Lexie', charged with gunning down two Indian fishermen off the Kerala coast in February.  
The marines, Latore Massimiliano and Salvatore Girone, were brought from the Central Prison in Thiruvananthapuram and produced before the Chief Judicial Magistrate A K Gopakumar on expiry of deadline of their judicial custody.  
They were arrested on February 19 and charged with murder of fishermen Valentine Jalastine and Ajesh Binki, who put to sea on the boat St Antony from Neendakara in Kollam.  
The two were in police custody in the first 14 days and had been lodged in a special cell in the central prison since March 5 after the court remanded them to judicial custody.  
A special team headed by Kochi City Police Commissioner M R Ajith Kumar has been investigating the case and the firearms, allegedly used by the marines, seized from the ship and sent to the Government Forensic Laboratory for ballistic examination and analysis.
The ship is still anchored off Kochi Port as the Kerala High Court has not permitted it to leave.