Judiciary expected to act in case of governance deficit: Justice T S Thakur, next CJI
New Delhi: Justice T S Thakur, the senior-most judge of Supreme Court and tipped to be the next Chief Justice of India, is of the opinion that the judiciary is not "too ambitious" nor did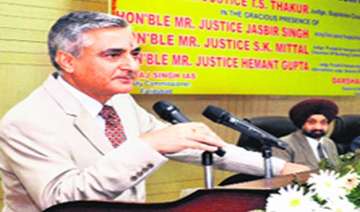 India TV News Desk
January 12, 2015 19:17 IST
New Delhi: Justice T S Thakur, the senior-most judge of Supreme Court and tipped to be the next Chief Justice of India, is of the opinion that the judiciary is not "too ambitious" nor did it want to take over governance but it would be expected to act in public interest if "there is complete deficit in governance…when the darkness is all around."
Justice Thakur said this on Sunday while delivering the first Kapila Hingorani memorial lecture in New Delhi.
Remembering the late senior advocate Kapila Hingorani whom he addressed as 'mother of public interest litigation' in India, he stated that the  judiciary's commitment to reforms in the country is unquestionable and it would not look the other way when citizens knock on its door in hope of justice.
"Our attention towards public interest jurisdiction is not because we want to take over governance, or because the judiciary is too ambitious and also not because we have a grudge against people who have the power and authority. It is only because of the necessity of the situation," Justice Thakur added.
Speaking on the topic, 'Evolving standards for a humane criminal justice system', Justice Thakur pointed out that the judiciary has always been forthright in issuing directives to protect the rights of the people but the implementation has to be done by those in bureaucracy and government.
He said that those in administration and governance were duty-bound to act to correct wrongs and improve the state of affairs and that they  must be made to act since all stakeholders will require to work in tandem to bring about positive changes in society.
The remarks by the senior judge, set to take over as the next CJI in December this year, has come at a time when the NDA government successfully enacted a law to take away exclusivity of judges of Supreme Court and high courts in appointing fellow judges.
Setting up of NJAC has not gone down well by a number of judges and lawyers. They feel that it has chained the independence of the judiciary by  imposing  the dominance of Executive.