Karan Kakkad's Brother Says, Skull, Bones Are Not His Brother's
Pune, Apr 18: Estate agent Karan Kakkad's Delhi-based brother Hanish has siad that the skull and some bones, said to be the remains of his missing brother, are not his, and Vijay Palande was misleading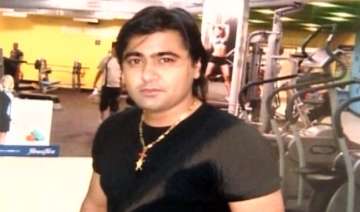 India TV News Desk
April 18, 2012 11:23 IST
Pune, Apr 18:
Estate agent Karan Kakkad's Delhi-based brother Hanish has siad that the skull and some bones, said to be the remains of his missing brother, are not his, and Vijay Palande was misleading the police probe.
Hanish, accompanied the police and a team of 12 trekkers insearch for his remains in the ravines of Chiplun on Monday.
Twenty-four hours later, Hanish  revealed  how he died "a dozen deaths" during the operation in which cops discovered a skull and some bones, the putative remains of Kakkad.
Hanish said he didn't believe the recovered remains were his brother's, and was still hoping to find his missing brother, alive.
"It's one thing to know that you are setting out to collect a dead body, and quite another to be perennially on the edge, wondering whether the cops will find the body parts.
"Each time our vehicle would halt by the roadside, and cops would alight to look for bones, my heart would be in my mouth. Baar baar mara aur baar baar zinda hua main (I died several times…)," Hanish said.
Joint teams of Oshiwara and Amboli police, investigating Kakkad's disappearance, left for the mountain pass of Kumbharli ghat on Sunday night with prime suspect Vijay Palande.
The police asked Hanish to accompany them in the hope that he might be able to identify the estate agent's remains.
Hanish didn't have to face his brother's alleged murderer as they were both in different police vehicles.
After his arrest last week, Palande had confessed to killing Karan Kakkad on March 6, chopping his body into pieces and disposing them of in the Chiplun ravines. In his subsequent statements, however, he gave different accounts of the murder.
"Palande has lied to the police all along, and during the search too he kept bluffing about where the bones could be. I think he is lying about murdering Karan. For instance, he claims he stabbed Karan and cut his body into pieces in his flat. However, I didn't find any blood stains in the apartment," Hanish told Pune Mirror.
Every time he saw Palande from a distance during the search, Hanish felt like hitting him.
"Aggression toh bahut hain mere main. Mann toh karta hai kuch kar daaloon uska (I am experiencing a lot of aggression, and feel like harming him). But we are waiting for the law to show us the way ahead, unravel pieces of this mystery and take its course," he said.
During Monday's search, Hanish confronted his worst fears when he had to go down the valley.
 "There was a white bag lying in the shrubs. As I began opening it, my head throbbed with questions and I felt that my heart was sinking. I saw bones… and some feathers. As I pulled them out with dread, I realised that they were of a dead chicken. Earlier, cops stumbled upon a bag containing the bones of a goat," he said.
Kakkad's  brother is certain that the forensic report on the recovered human remains - a skull and limb bones - will prove the police wrong.
"The skull stank, and appeared reasonably old. When I saw it closely, I noticed that it was too small to be my brother's. It seemed more like a teenager's skull. The limb bones found were, however, clean and white, bearing no trace of flesh," Hanish said.
"I fail to fathom how the skull and limb bones of the same person could be in such different stages of decay."
The Oshiwara and Amboli police's search began on Sunday night and ended on Monday evening with the discovery of Kakkad's putative bones.
 A team of 12 trekkers from Mahabaleshwar assisted cops in the operation. They climbed down several hundred feet - into ravines where death is only one wrong step away - to look for polythene bags in which Palande packed Kakkad's severed body parts after murdering him.
Despite the obvious difficulties, the group managed to find two bags containing the skull and bones. "It was a very tough task; the trekkers had to go deep inside the valley. They did a great job," said Senior Inspector Dilip Rupwate of the Oshiwara police.
Initially, cops roped in some tribals to scour the rough and forested terrain along Kumbharli ghat. By Monday noon, they had realised that it was a job for the pros. They contacted the Sahyadri Trackers' Association of Mahabaleshwar, and sought its help.
At about 4 pm, the group of 12 trekkers arrived at the spot from the hill station. They split into groups and scoured two areas in the valley where Palande claimed to have thrown bags containing Kakkad's remains.
"At about 5.30 pm, we found one of the bags. After some time, we discovered another bag," said Sanjay Parthe, who started the trekkers' association. "At 7 pm, we climbed back."