'Karnataka bandh' hits normal life in Bengaluru
Bengaluru: The 12-hour Karnataka bandh called today by various Kannada organisations, under the banner of 'Kannada Okkuta', to protest against Tamil Nadu's opposition to the Mekedatu drinking water project has severely hit the city.All public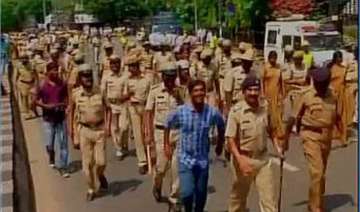 India TV News Desk
April 18, 2015 11:34 IST
Bengaluru: The 12-hour Karnataka bandh called today by various Kannada organisations, under the banner of 'Kannada Okkuta', to protest against Tamil Nadu's opposition to the Mekedatu drinking water project has severely hit the city.
All public transports including Karnataka State Road Transport Corporation (KSRTC) and Bangalore Metropolitan Transport Corporation (BMTC) buses, autorickshaws and cabs will be off the roads.
Autorickshaws and taxis unions'support to the bandh has brought the city to a standstill. Ola and Taxiforsure have informed its customers through messages that it will not take bookings until advised by police. Local trains are the only mode of public transport available in the city which has been equipped with extra security.
KSRTC has stopped its services across the state.  The bandh will be in force from 6 am to 6 pm today.
A huge rally has been planned which will be taken out from Town Hall to Freedom Park and leaders will submit a memorandum to Chief Minister Siddaramaiah. Okkuta is expecting a huge assemblage of over one lakh people.
The bandh is organised to exhort pressure on the government to implement the Mekedatu Drinking Water Project. Tamil Nadu has opposed the Mekedatu drinking water project across the inter-state river Cauvery.
Farmers' bodies in Tamil Nadu had organised a state-wide band on March 28 over the issue to which several state political parties had expressed their support to.
Tamil Nadu Assembly had also adopted a unanimous resolution urging Centre to rein in the upper riparian state of Karnataka from going ahead with its plan to build the dam across the river.
The protesters in Karnataka are also demanding release of Rs.10,000-crore for completion of works on Upper Krishna Project, release of additional funds for the development of Belagavi and stoppage of work on laying high-tension power line across the Western Ghats through Kodagu.