Karnataka IAS Officer's Wife Slaps Lady Police Inspector, Arrested, Released On Bail
Bangalore, Jan 30: The wife of  a Karnataka IAS officer, Anuja Pandey was arrested by Bangalore police this evening on charge of beating a lady police inspector. She  was later released by a magistrate on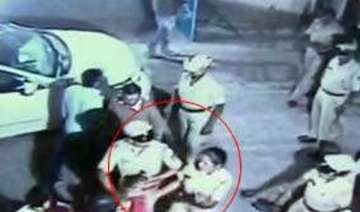 India TV News Desk
January 31, 2012 9:43 IST
Bangalore, Jan 30: The wife of  a Karnataka IAS officer, Anuja Pandey was arrested by Bangalore police this evening on charge of beating a lady police inspector. She  was later released by a magistrate on interim bail.
 
Police today registered an  FIR  involving  the IAS officer's wife at Chinnaswami stadium on Sunday evening.
 
The woman police inspector was slapped and  assaulted by the wife of Pankaj Kumar Pandey, Managing Director of Hubli Electricity Supply Company, following a verbal duel over an entry pass to the M Chinnaswamy Stadium here on Sunday.

Anjumala T Nayak, Inspector of Ulsoorgate Women's Police Station, alleged that  Pankaj Kumar Pandey's wife  Anuja hit her on the face and wounded her ear, when she came out of the stadium's Gate No 1 and picked a quarrel with her. The scuffle also left the inspector's hands bruised.




According to Anjumala, it all started when Pandey's wife tried to enter the stadium through a gate for which she did not have an entry pass for a match of the Celebrity Cricket League.
 
But the policewoman prevented her from doing so. The IAS officer's wife then called someone who came out of the stadium and took her inside.

The matter would have been forgotten but Pandey's wife reportedly picked a quarrel with Anjumala while coming out of the stadium.
 
Pandey's wife abused Anjumala and other police personnel and, in the heat of the moment, assaulted her.

Anjumala then went to the Cubbon Park police station and lodged a complaint against Pandey's wife.