No solution less than a separate homeland acceptable to Kashmiri Pandits
Jammu: Voicing concern over the opposition to the government's move of a separate township for Kashmiri pandits, an organisation of Kashmiri pandits today said no solution less than carving out a "homeland" with union territory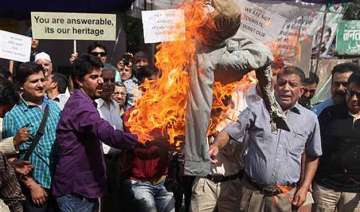 PTI
April 13, 2015 21:26 IST
Jammu: Voicing concern over the opposition to the government's move of a separate township for Kashmiri pandits, an organisation of Kashmiri pandits today said no solution less than carving out a "homeland" with union territory status in Valley is acceptable to Kashmiri pandits.
"No solution less than homeland with union territory in Valley is acceptable to Kashmiri Hindus," Panun Kashmir convenor Dr Agnishekhar told reporters here.
Flanked by chairman of Panun Kashmir Dr Ajay Chrungoo, he said the creation of a Union Territory of Panun Kashmir north and east of river Jhelum in Kashmir Valley for the rehabilitation of entire population of Kashmiri Hindus has become inevitable.
"The creation of Panun Kashmir has become an imperative and historical necessity not only for Kashmiri Pandits but ...(also) to stop Kashmir from becoming the new bastion for International terrorism and a sanctuary for Islamist terrorist enterprise," he said.
Reacting to the opposition to the township for KPs, they said that the responses of the entire political class in Kashmir Valley to the issue of return of Kashmiri Hindus has brought it out glaringly that the spirit of secularism and coexistence is non-existent in its politics.
"The expressions of different segments of Kashmiri leadership, separatist and so called non-separatist, religious and so called moderate, reveal it unambiguously that there exists in Kashmir a milieu which is neither Kashmiri nor Indian but essentially fundamentalist and exclusivist in nature," Dr Agnishakher said.
Panun Kashmir calls upon all Indians to face the reality that in Kashmir the social and democratic space has been captured by a fundamentalist, totalitarian and religious monolith, he said.
"Pretending otherwise will be very costly because a religious war against India continues unabated from its soil. Panun Kashmir watched with dismay and dejection the speech delivered by Mufti Mohammad Sayeed on the issue of return of Kashmiri Hindus," he said.
Dr Agnishkhar said that the tone and tenor of his speech was only complimentary to what the likes of Ali Shah Geelani or Yasin Malik had said on the issue.
"The speech only reflected a disdain and lack of sensitivity with regard to the expulsion of Kashmiri Hindus from Kashmir," he said.