Kejriwal accuses media of bias
Mathura: Aam Aadmi Party leader Arvind Kejriwal today accused the media of bias saying while news related to the house with three rooms allotted to him was telecast repeatedly, there was nothing on Gujarat Chief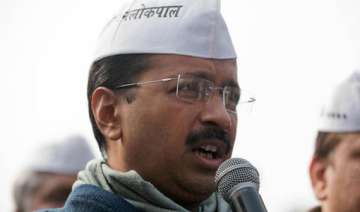 India TV News Desk
March 09, 2014 22:50 IST
Mathura:
Aam Aadmi Party leader Arvind Kejriwal today accused the media of bias saying while news related to the house with three rooms allotted to him was telecast repeatedly, there was nothing on Gujarat Chief Minister Narendra Modi giving farmers' land to industrialists.  
"Modi snatched the land from farmers and gave them to Adani, the media never told you. That Kejriwal has taken a house with three rooms they will run the entire day," the Delhi Chief Minister said at a rally here.  
"What crime have I committed if I have taken a three-room house? I haven't taken a bungalow," he said.  The AAP leader, who recently visited Gujarat, has been contesting Modi's claims of development in the state.