Kerala fishermen's kin accept Rs 1 cr from Italian authorities
Kochi, Apr 24: In a sudden turn of events, families of two fishermen allegedly shot dead by Italian marines on board 'Enrica Lexie' ship have reached a compromise with that country's authorities and accepted Rs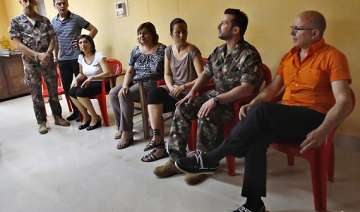 PTI
April 24, 2012 18:56 IST
Kochi, Apr 24:
In a sudden turn of events, families of two fishermen allegedly shot dead by Italian marines on board 'Enrica Lexie' ship have reached a compromise with that country's authorities and accepted Rs one crore compensation but the criminal proceedings against the naval guards marines will continue.
Setting the stage for the settlement, the Kerala High court had earlier in the day permitted the family members of Valentine Jalastine and Ajesh Binki to withdraw their contentions made against Italy's plea for quashing the FIR against the marines.
Justice P S Gopinathan allowed the petition filed by Jalastine's wife Doramma and sisters of Binki, the latter hailing from Kanyakumari district of Tamil Nadu.  
However, Advocate General K P Dandapani said the legal heirs were not party to the criminal cases pending against the accused marines. The compensation agreement would not affect the case registered by the state, he said.  
The marines have been charged with murder under the Indian laws for shooting dead the fishermen in February last when they were fishing in a boat off Kollam coast of Kerala.  
The plea for compensation was filed by wife Jalastine's wife and two children and two sisters of Binki, who will get Rs one crore each as legal heirs of the victims.  
The Italian authorities handed over the Demand Draft for the amount in the High Court's Lok Adalat.  
Shortly after police lodged the FIR in the case, Italian Consual General Giampaolo Cutillio and the two marines—Latore Massimilliano and Salvatore Girone—had approached the High Court seeking to quash the FIR.  
The legal heirs of the fishermen impleaded themselves in the case opposing the Italian's plea. Later, however, they agreed to settle for the amount offered by the Italian government.
In view of this development, counsel for the victims' families informed the court today they were withdrawing their defence and not pressing for the charges against the marines.  
The two marines have been lodged in Central prison at Thiruvananthapuram and the ship is anchored off the coast of Kochi for the past two months.
With both parties agreeing for a solution, the High court under the Alternate Dispute Resolution System referred the issue to the Lok Adalat, which recorded the compensation agreement.
On request from Italian authorities, the family members of the deceased fishermen also gave a letter to the Italian authorities stating that they had pardoned the marines.  
"We have decided to withdraw the claim compensation suit after accepting Rs one crore," Unnikrishnan, counsel for Doramma, wife of Jalastine.
"Here after, we will not file any case against them," he said, adding,the legal heirs received the compensation amount today.