Video: Kerala man sets world record for maximum push-ups in a minute
New Delhi: Kochi-based KJ Joseph has set a new world record for taking maximum push-ups in a minute.At an event in Kochi on Monday, Joseph, manager of an ayurveda centre in Munnar, bettered the 2015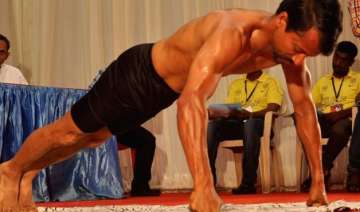 India TV News Desk
February 09, 2016 13:16 IST
New Delhi: Kochi-based KJ Joseph has set a new world record for taking maximum push-ups in a minute.
At an event in Kochi on Monday, Joseph, manager of an ayurveda centre in Munnar, bettered the 2015 record of 79 push-ups in a minute by Ron Cooper of US by doing 82 push-ups in 60 seconds.
With 82 push-ups, Joseph is now set to make an entry in the Guinness World Book of Records. But he will have to wait for the officials to validate his accomplishment.
Joseph, who hails from Chathanthara in Erumely, has already entered the Universal Record Forum by doing 2092 push-ups in an hour. He is currently a record holder in the India Book of Records.