Killer Pune Driver Had Hallucinations, Took Name Of Politician When Police Asked His Name
Pune, Jan 26:  Pune's killer driver Satish Mane had been asked by a psychiatrist last year to stop driving buses, as he was often having hallucinations. On Wednedsay, after the blood-soaked rampage, when a  senior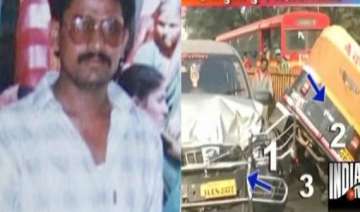 PTI
January 26, 2012 17:06 IST
Pune, Jan 26:  Pune's killer driver Satish Mane had been asked by a psychiatrist last year to stop driving buses, as he was often having hallucinations.

On Wednedsay, after the blood-soaked rampage, when a  senior officer from Pune Police's Crime Branch interrogating Mane asked his name, he began blabbering.

"When we asked his name, he took the name of a veteran politician. He also said that he does not remember anything of what had just happened," said the officer, reports Indian Express.
Asked if Mane had consumed alcohol, Abhay Yeole, assistant commissioner of police (Swargate division), said, "We are yet to get the report. We have no inputs as of now about his mental illness. Officers of the state transport corporation have told us that they were unaware of his illness."

The  unstable government bus driver barreled through the heart of Pune for some 45 minutes on Wednesday morning, mowing down eight people, injuring 30 and slamming into several bikes and cars on the way.

39-year-old Santosh Maruti Mane's wife Sonali said he was stressed and overworked from being forced to drive long routes.

A Solapur psychiatrist whom Mane visited two years ago said that Mane had been suffering from mental illness.

Dr Dilip Burate told The Indian Express that he had told Mane that he was unfit to drive public vehicles, and must quit his job with the Maharashtra State Road Transport Corporation (MSRTC).
Dr Dilip Burate told the newspaper over the phone from Solapur that Mane had gone to him with "complaints of hallucinations", and had been talking "many irrelevant things".

"As I remember the case and based on the documents that I have found in my records, he had either schizophrenia or mania. He had come to me for a month after that and I had prescribed medication. But he stopped coming to me after that."

Mane's wife Sonali said her husband was under severe pressure and stress at work, and would frequently shout at her and their children.
"He repeatedly requested MSRTC not to put him on long routes. But he was forced to drive these long routes. He faced problems earlier too due to stress at work. He had also taken a month's leave for treatment," she said.

MSRTC managing director Deepak Kapoor said Mane had been involved in five accidents in 11 years of service.
For two of these accidents, he had been punished with a stoppage of increments. Kapoor insisted, however, that all the incidents were "minor" because "in all these mishaps, there were no fatalities".

Corporation officials said Mane had never complained of stress. However, hours after Mane's crazy ride ended in tragedy, MSRTC announced a committee to study the medical histories of all its 37,000 drivers.

"The incident has come as a grim reminder of the need to update the health of employees," MSRTC spokesman Mukund Dhus said.

Mane was taken into custody and booked under IPC Sections 379 (theft), 302 (murder), 307 (attempt to murder), 324 and 326 (voluntarily causing grievous hurt by dangerous weapons or means), and sections of the Prevention of Damage to Public Property Act.