Kiran, Chiranjeevi hit out at each other over bifurcation
Hyderabad: The slanging match between Union Minister of State for Tourism K Chiranjeevi and former Chief Minister of Andhra Pradesh N Kiran Kumar Reddy over the state bifurcation turned more acrimonious today.While Chiranjeevi held Kiran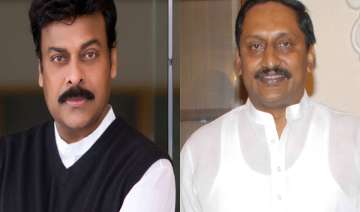 PTI
March 22, 2014 21:24 IST
Hyderabad:
The slanging match between Union Minister of State for Tourism K Chiranjeevi and former Chief Minister of Andhra Pradesh N Kiran Kumar Reddy over the state bifurcation turned more acrimonious today.
While Chiranjeevi held Kiran responsible for the division, the latter hit back saying that the actor-turned-politician was speaking like "a comedian".
Chiranjeevi also accused Kiran of corruption. The exchange began two days ago when Chiranjeevi, now the AP Congress campaign committee chairman, sought to project all other parties as villains over the state bifurcation but singled out Kiran for an especially vitriolic attack.
"Kiran let AP be divided only to protect his Chief Minister's position. He was fully aware of the Centre's plan and hence was solely responsible for bifurcation," he said.
Kiran, who quit the Chief Minister's post protesting the bifurcation and subsequently floated Jai Samaikyaandhra party, countered, pointing out that he gave up his post when the Centre went ahead with the bifurcation process.
"It was Chiranjeevi who ran from pillar to post in Delhi for the CM's post, after I resigned," Kiran alleged. During the Congress's bus yatra in north coastal Andhra in the last two days, the Union Minister sharpened his attack on Kiran, accusing him of corruption.