Know about the J&K Light Infantry (watch pics)
New Delhi: Jammu and Kashmir Light Infantry is the outcome of 1947 Pakistan invasion of Kashmir. In response to this invasion, the Indian Ministry of Home Affairs formed group of locals , generally denoted as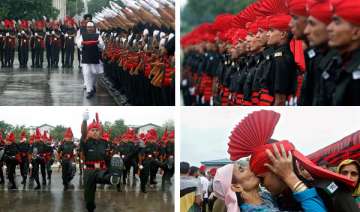 India TV News Desk
July 12, 2013 6:40 IST
New Delhi:
Jammu and Kashmir Light Infantry is the outcome of 1947 Pakistan invasion of Kashmir. In response to this invasion, the Indian Ministry of Home Affairs formed group of locals , generally denoted as  J& K militias to operate near Line of Control. The locals were volunteers from Jammu and Kashmir.
The militias made a big contribution  during the 1965  Indo-Pak War. It  was during  1971 Indo- Pak war, they were awarded three battle honours and got national recognition.
It was then that Brigadier Lekhraj Singh Puar of Garhwal Rifles,the then head of J&K Militia  brought the proposal of conversion of militia into a full fledged Army regiment.
The proposal was accepted by the Ministry of Home Affairs and as a result  the J&K Militia was converted into Army regiment  known as Jammu and Kashmir Militia.
Later in 1976 J&K militia was renamed as  Jammu and Kashmir Light Infantry  and till today it is  known by the same name. The Regimental Centre of  J&K Light Infantry  is at Srinagar's Airport Complex in Avantipur.
The motto of the regiment is Balidanam Vir Lakshanam (Sacrifice is a characteristic of the brave).
July 10,  2013 was the day when another group of brave volunteers from the state of J&K graduated as a part of  J&K Light Infantry. Newly graduated soldier performed a parade at a military base on the outskirts of Srinagar, as part of graduation ceremony.
Here are the pics from the graduation ceremony of the soldiers: