Know the Food Security Bill and whom will it benefit the most (watch pics)
New Delhi:  The Food Security Bill promulgated by the President is aimed at giving the nation's two-third population the right to get 5 kgs of foodgrains every month at highly subsidised rates of Rs 1-3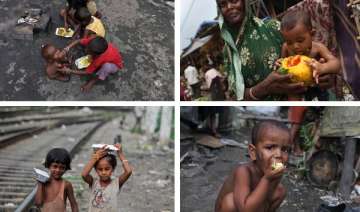 India TV News Desk
August 26, 2013 16:57 IST
New Delhi: 
The Food Security Bill promulgated by the President is aimed at giving the nation's two-third population the right to get 5 kgs of foodgrains every month at highly subsidised rates of Rs 1-3 per kg.
The Food Security programme will be the biggest in the world with the government spending estimated at Rs 125,000 crore annually on supply of about 62 million tonnes of rice, wheat and coarse cereals to 67 per cent of the population.
The measure will guarantee 5 kg of rice, wheat and coarse cereals per month per person at a fixed price of Rs 3, 2, 1, respectively,
However, about 2.43 crore poorest of the poor families covered under the Antyodaya Anna Yojana (AAY) scheme under PDS (Public Distribution System) would continue to get 35 kg of foodgrains per family per month but with legal entitlement.
It is the centrepiece of  the Congress party's plan  and is  a pet project of Congress president Sonia Gandhi  in her party's bid to win a third term in elections due by May 2014.
Here we take a look at the life of the population who may get food to feed themselves with the launch of this scheme.
Here are the pics: