Know the importance of Ajmer Sharif dargah (in pics)
New Delhi: The Ajmer Sharif dargah of Khwaja Moinuddin Chishti is famous the world over for attracting millions of devotees who seek the sufi saint's blessings.Hazrat Khwaja Moinuddin Hasan Chishti  occupies a prominent place among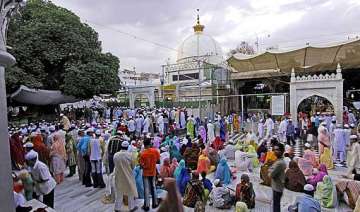 India TV News Desk
August 08, 2013 6:18 IST
New Delhi:
The Ajmer Sharif dargah of Khwaja Moinuddin Chishti is famous the world over for attracting millions of devotees who seek the sufi saint's blessings.
Hazrat Khwaja Moinuddin Hasan Chishti  occupies a prominent place among the spiritual healers of the world.
Popularly known as Khwaja Gharib Nawaz, Khwaja  was born in 1141 A.D. in Chishti in Sistan region of eastern Iran.
A student of Imam Jaafar us-Sadiq, Moinuddin Chishti grew up in Iran. His parents died when he was 15.  He inherited a windmill and an orchard from his father.  He kept himself busy in prayers and meditation since his childhood.