Kolkata Metro commuters can use mobile phones soon
Kolkata: Commuters in the Kolkata Metro railway - India's oldest underground tube rail - will at last be able to use their mobile phones when the trains run inside the tunnel. The authorities expect the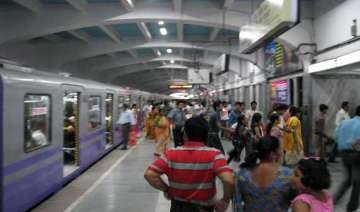 IANS
August 19, 2013 6:57 IST
Kolkata
: Commuters in the Kolkata Metro railway - India's oldest underground tube rail - will at last be able to use their mobile phones when the trains run inside the tunnel. The authorities expect the facility to be available before the coming Durga Puja in October.
Despite the city getting mobile connectivity way back in the 1990s, the network was long silent inside the metro tunnels. But not any more.
The Kolkata Metro, which began its journey Oct 24, 1984, has decided to introduce the Global System for Mobile Communications-Railways (GSM-R) technology which would enable the commuters to receive mobile connectivity inside the tunnel.
"First we will use it on a trial basis in our work. We are at an advanced stage. It will help in improving communication between the motorman and the control room in the tunnels," Kolkata Metro's Deputy General Manager Protyush Ghosh told IANS.
"In the next stage, we will give the bandwidth to the mobile service operators so that commuters can avail of the facility. We expect the facility to be available to the passengers before the Durga Puja," Ghosh said.