Devotees throng Ramanathaswamy shrine
Rameswaram: Devotees today thronged the Ramanathaswamy temple here to take bath in the 22 holy wells in the shrine and perform poojas to their forefathers on the occasion of 'Masi Amavasya.'Police and temple officials made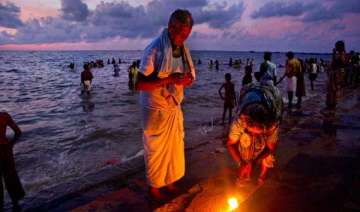 PTI
March 01, 2014 16:08 IST
Rameswaram:
Devotees today thronged the Ramanathaswamy temple here to take bath in the 22 holy wells in the shrine and perform poojas to their forefathers on the occasion of 'Masi Amavasya.'
Police and temple officials made elaborate arrangements for the pooja as people from Uttar Pradesh and Madhya Pradesh thronged the temple for worshipping the deity.
Temple executive officer C.Selvaraj said about one lakh devotees visited the temple in the morning and it continued to be crowded.