Society must work to change negative perceptions about women says Pranab Mukherjee
New Delhi: Society must work towards changing negative perceptions about women and they should be provided a safe, secure and congenial environment to help them contribute towards nation-building, President Pranab Mukherjee said today.In his message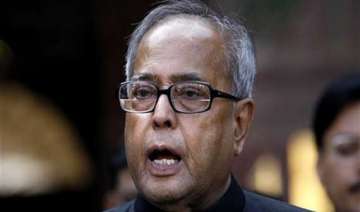 PTI
March 07, 2014 15:49 IST
New Delhi:
Society must work towards changing negative perceptions about women and they should be provided a safe, secure and congenial environment to help them contribute towards nation-building, President Pranab Mukherjee said today.
In his message on the eve of International Women's Day, Mukherjee asked people to resolve to redouble efforts for the protection and welfare of women.
"I extend warm greetings and good wishes to women in all parts of our country. I thank them for their invaluable contribution in the making of our great nation.  
"Women in India have attained greatness through the ages -in political, academic and spiritual spheres. They enjoyed freedom and equal participation in public life in ancient India," the President observed.
The principle of gender equality is also enshrined in the Indian Constitution. Not only does the Constitution grant equality to women, but also empowers the State to adopt measures of positive discrimination in favour of women, he said.