Jaswant Singh fails to get ticket from Barmer, BJP fields party hopper Sonaram
New Delhi/Barmer: The BJP central election committee today decided to field retired Col. Sonaram Chaudhary, former Congress MP from Barmer, disregarding former External Affairs Minister Jawant Singh's request to contest from his hometown. The party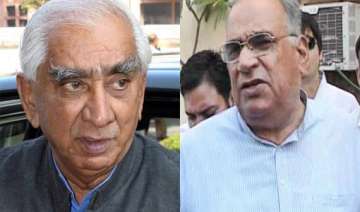 India TV News Desk
March 21, 2014 22:52 IST
New Delhi/Barmer:
The BJP central election committee today decided to field retired Col. Sonaram Chaudhary, former Congress MP from Barmer, disregarding former External Affairs Minister Jawant Singh's request to contest from his hometown.
The party released the list of 4 candidates, which include Dr Manoj Rajoriya from Karauli-Dholpur SC, Sanwarmal Jat (minister) from Ajmer, P P Choudhary from Pani and retired Col. Sonaram Chaudhary from Barmer.
Seventyfive-year-old Jaswant Singh had requested the party president that he be allowed to contest his "last Lok Sabha election" from his hometown Barmer. Jaswant Singh was elected from Darjeeling, West Bengal in 2009 on Gorkha Janmukti Morcha ticket.
Local BJP workers gathered at Jaswant Singh's son Manavendra Singh's residence in Barmer, where they shouted slogans against Rajasthan chief minister Vasundhara Raje.
The supporters demanded that Jaswant Singh should contest as Independent from Barmer. "People will then see the real BJP and the fake BJP, which gave ticket to Col. Sonaram Chaudhary", said Rajendra Singh, local BJP leader.
One of the supporters, Balram Prajapat predicted that BJP would win only 10 LS seats from Rajasthan this time.