Kejriwal says no evidence of development in Gujarat
Radhanpur:  Taking on Narendra Modi on his home turf, AAP leader Arvind Kejriwal today accused the BJP PM candidate of trying to stall his visit to Gujarat after he was briefly "detained" by police and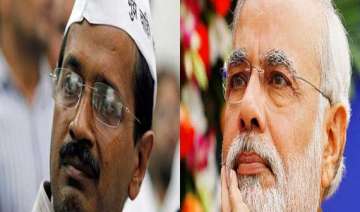 PTI
March 05, 2014 19:17 IST
Radhanpur: 
Taking on Narendra Modi on his home turf, AAP leader Arvind Kejriwal today accused the BJP PM candidate of trying to stall his visit to Gujarat after he was briefly "detained" by police and said he did not find any evidence of development claimed by the Chief Minister.
As he embarked on his four-day tour to verify Modi's claims of providing water, power, education and healthcare to people of his state, the former Delhi Chief Minister was taken to Radhanpur police station in north Gujarat and allowed to go after half an hour.
AAP's state convenor Sukhdev Patel claimed that Kejriwal was detained but police denied it saying they had only "briefed" Kejriwal on the model code of conduct which came into force today with the declaration of poll schedule.
Kejriwal alleged that the police had acted on the "orders from the top".
"We came to know in the morning itself that all the DSPs have been instructed to stop Kejriwal under any circumstances. Modi has also been sending some people with black flags. We know they will resort to such tactics," Kejriwal said.