Khushwant regretted he saw women as objects of lust
New Delhi: Best-known writer and columnist Khushwant Singh had a regret in life - that he always looked at women as objects of lust.In "Khushwantnama: The Lessons of My Life", published last year, he regretted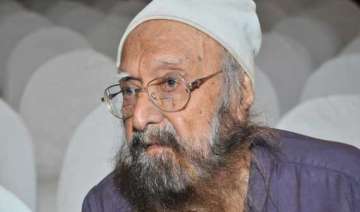 PTI
March 20, 2014 17:06 IST
New Delhi:
Best-known writer and columnist Khushwant Singh had a regret in life - that he always looked at women as objects of lust.
In "Khushwantnama: The Lessons of My Life", published last year, he regretted that he committed many "evil deeds" in his early years like killing sparrows, doves and rock pigeons.  
"I have also come to the sad conclusion that I have always been a bit of a lecher. From the tender age of four right to the present when I have completed 97, it has been lechery that has been uppermost in my mind.
"I have never been able to conform to the Indian ideal of regarding women as my mothers, sisters or daughters. Whatever their age, to me they were, and are, objects of lust," he wrote.
He also felt he wasted precious time in "pointless rituals" and "socializing" and spending years of his working life as a lawyer and then a diplomat, until he took to writing.
"I wasted many years studying and practicing law which I hated. I also regret the years spent serving the government abroad and at home, and the years with UNESCO in Paris," he wrote.
"Although I saw places and enjoyed life, and, having little to do, started writing. I could have done a lot more of what I was best at. I could have started my writing career much sooner."