Know about the secret of Arvind Kejriwal's blue Wagon R car
New Delhi: The so called mango man (aam aadmi) is seen riding his blue wagon R along the streets of Delhi. This car has been the spotlight of the media and has in a way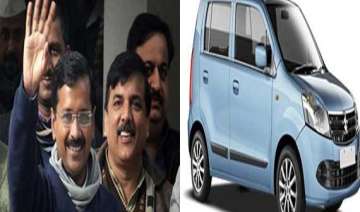 India TV News Desk
March 03, 2014 11:33 IST
New Delhi:
The so called mango man (aam aadmi) is seen riding his blue wagon R along the streets of Delhi. This car has been the spotlight of the media and has in a way helped Kejriwal as a politician to connect with the middle class.
For him, big cars are a waste of money, fuel and road space. But do you know the owner of the car is not Arvind Kejriwal himself, but an Aam Admi Party supporter.
This car was donated by Kundan Sharma in 2013. Sharma, a part of India Against Corruption campaign made a voluntary donation of the car which was lying unused by him.