Mumbai building collapse: High Court asks police not to arrest advocate
Mumbai: Observing that advocate Sindha Shreedharan, charged with culpable homicide following collapse of a building in Mumbai killing seven persons, cannot be held solely responsible, Bombay High Court today directed police not to take coercive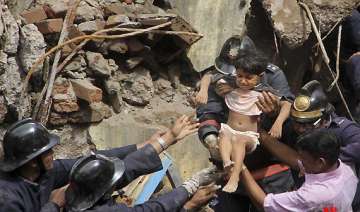 PTI
March 18, 2014 18:39 IST
Mumbai:
Observing that advocate Sindha Shreedharan, charged with culpable homicide following collapse of a building in Mumbai killing seven persons, cannot be held solely responsible, Bombay High Court today directed police not to take coercive steps against her or any BMC official.  
A division bench of Justices Anoop Mohta and M S Sonak was hearing a bunch of petitions filed by Shreedharan challenging the eviction notice issued by the Brihanmumbai Municipal Corporation (BMC) in April 2008 asking all the tenants to vacate the seven-storey building in suburban Vakola as it was dilapidated.
While all tenants were evicted, Shreedharan's family refused to vacate their ground floor premises due to dispute with the landlords.
On March 14, the building collapsed killing seven persons, including Shreedharan's sister, and injuring four others. Police yesterday registered a case of culpable homicide against Shreedharan and unnamed BMC officials for failing to take steps for eviction and building's demolition.  
"The BMC has also not taken any steps towards eviction or demolition of the building. How can the BMC put burden on the petitioner alone as being responsible for the collapse? If the building was in a dilapidated condition since 2008, what steps has the corporation taken? Can only the petitioner be blamed?" Justice Mohta said.