Raje govt to allot 30,000 new domestic power connections
Jaipur:  The Rajasthan government will soon allot 30,000 new domestic power connections under the 'Chief Minister Power for All' programme.  Out of these 30,000 connections, 15,000 would be allotted in Jodhpur Discom alone, an official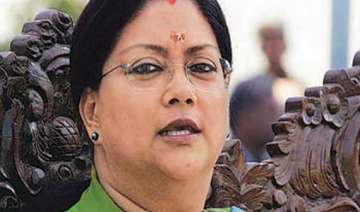 PTI
March 02, 2014 16:30 IST
Jaipur: 
The Rajasthan government will soon allot 30,000 new domestic power connections under the 'Chief Minister Power for All' programme.  
Out of these 30,000 connections, 15,000 would be allotted in Jodhpur Discom alone, an official release said today.  
The details about the new connections were devised by Rajasthan Power Minister G S Khinvsar and announced in 'Field Engineers Conference' held yesterday.  
The conference was also attended by Chief Minister Vasundhra Raje.
Raje emphasized on speeding up the grievance redressal mechanism and making it more consumer friendly.