Read what Delhi Police says about AAP, BJP clash in capital
New Delhi:  Delhi police has accused the Aam Aadmi Party protestors of indulging in "riotous acts and using criminal force" to prevent the police from discharging their duty over Wednesday's protest which turned violent outside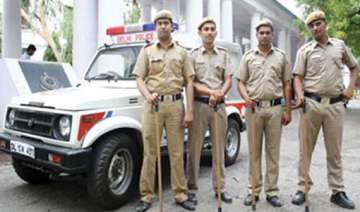 PTI
March 07, 2014 17:19 IST
New Delhi:
  Delhi police has accused the Aam Aadmi Party protestors of indulging in "riotous acts and using criminal force" to prevent the police from discharging their duty over Wednesday's protest which turned violent outside BJP headquarters here.
According to the report submitted by the police, sub inspector Sunil Kumar along with force from Parliament street police station reached at BJP headquarters and found that around 50 AAP activists had assembled.
He tried to persuade and pacify the protestors to go back but the crowd continued shouting slogans and in a short duration, the number AAP protestors swelled to 150-200, said the report.
Following this, Assistant Commissiner of Police,
Parliament street Anyesh Roy reached the spot with extra force during which the protestors had started climbing the wall and the main gate and tore off the hoardings outside.
"The assembly was declared unlawful on the PA system and they were asked to disperse but the crowd continued to indulge into riotous acts and stone pelting," the report stated.
With no alternative left, police has to resort to the usage of water cannons to disperse the crowd.