SC awards 20-year jail term to rebel in mass killings case
New Delhi: The Supreme Court today commuted the death sentence of a militant who was involved in the 1997 mass killing at Jarulbachai village in Tripura in which 15 people were shot dead and four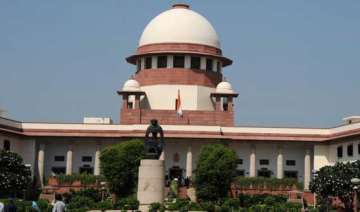 PTI
March 04, 2014 23:27 IST
New Delhi:
The Supreme Court today commuted the death sentence of a militant who was involved in the 1997 mass killing at Jarulbachai village in Tripura in which 15 people were shot dead and four others injured.  
The apex court, however, fixed his jail term of 20 years without remission, over the period already undergone.  
"While altering the death sentence to that of imprisonment for life, we are inclined to fix the term of imprisonment as 20 years without remission, over and above the period of sentence already undergone, which, in our view, would meet the ends of justice," a bench of justices K S Radhakrishnan and Vikramajit Sen said.
"The appellant is a tribal, stated to be a member of the extremist group raging war against the minority settlers, apprehending perhaps they might snatch away their livelihood and encroach upon their properties, possibly such frustration and neglect might have led them to take arms, thinking they are being marginalised and ignored by the society," the bench said.
"Viewed in that perspective, we are of the view that this is not a rarest of rare case for awarding death sentence," it said.