SC notice to advocate over throwing ink at Sahara Chief Subrata Roy
New Delhi: The Supreme Court Wednesday took suo motu cognisance of a Gwalior-based advocate throwing ink at Sahara chief Subrata Roy as he was being taken to the court in pursuance of its Feb 26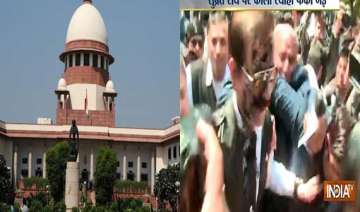 IANS
March 05, 2014 16:55 IST
New Delhi:
The Supreme Court Wednesday took suo motu cognisance of a Gwalior-based advocate throwing ink at Sahara chief Subrata Roy as he was being taken to the court in pursuance of its Feb 26 order.
The apex court constitution bench, headed by Justice R.N. Lodha, issued notice to advocate Manoj Kumar as to why contempt of court proceedings should not be initiated against him.
The court described Tuesday's incident as an obstruction to the administration of justice.