SC rejects Sahara proposal, Roy to remain in Tihar Jail
New Delhi: Calling it an insult after making it assemble a special bench, the Supreme Court today ticked off the Sahara group for not coming out with a proper proposal for refunding Rs.20,000 crore of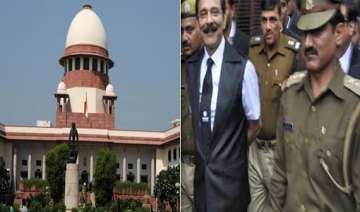 PTI
March 07, 2014 17:58 IST
New Delhi:
Calling it an insult after making it assemble a special bench, the Supreme Court today ticked off the Sahara group for not coming out with a proper proposal for refunding Rs.20,000 crore of investors money and asked it to come out with an "honourable" plan.
Subrata Roy will remain in Tihar jail till next Tuesday when the court posted the matter for further hearing.
The apex court expressed displeasure that the Sahara group asked for assembling of the special bench to hear the matter but did not provide a proper proposal. "It's an insult to us," it observed.
The Sahara group submitted that it was ready to make a cash payment of Rs 2,500 crore within three days and gave an assurnace that it will pay the rest of Rs 14,900 crore in five instalments by the end of July, 2015.
A bench of justices K S Radhakrishnan and J S Khehar rejected the proposal after SEBI also opposed it on the ground that group is supposed to pay Rs 34,000 crore and not just Rs 17,400 crore which it today agreed to pay.
"It is not a proper proposal and the proposal should be honourable," the bench said.