Jammu: Lathicharge at Territorial Army recruitment rally
Jammu: Police today resorted to baton charge at an uncontrolled crowd during a Territorial Army recruitment rally in Jammu's Reasi district.The recruitment drive organised by Indian Army in Jammu's Reasi drew huge crowd and started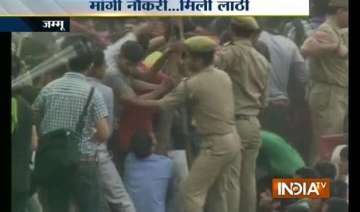 India TV News Desk
April 27, 2015 12:52 IST
Jammu: Police today resorted to baton charge at an uncontrolled crowd during a Territorial Army recruitment rally in Jammu's Reasi district.
The recruitment drive organised by Indian Army in Jammu's Reasi drew huge crowd and started at 7:30 in the morning. Those who were rejected started pushing each other and created chaos at the venue.
The crowd soon started pelting stones at the security personnel. To control the crowd, police had to resort to lathicharge.
Manish Mehta, PRO, Defence said, "Successful candidates are allowed to attend rally. Candidates that have been rejected for some reasons, they created law & order situation."
Several people have been injured during the stone-pelting and police action.