Lightning kills five farmers in Godda
Godda (Jharkhand): Five farmers were killed yesterday and three others were injured when lightning struck them at separate places in Godda district, police said here.  Four farmers were working in their fields at Balbadha while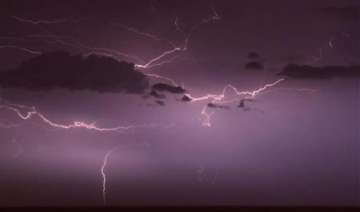 PTI
August 13, 2013 9:05 IST
Godda (Jharkhand):
Five farmers were killed yesterday and three others were injured when lightning struck them at separate places in Godda district, police said here. 
Four farmers were working in their fields at Balbadha while one was working at Meherma when lightning struck them, Superintendent of Police Ajay Linda said.
Three other farmers were injured in the incident, the SP Added.