LoC attack: army jawans were shot point blank, bulletproof vests didn't work
New Delhi, Aug 11 : As chilling details emerge about the raid by "specialist Pak troops" near Sarla post on the Indian side of Line of Control in Poonch sector, it appears there was failure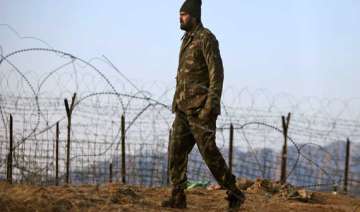 India TV News Desk
August 11, 2013 9:29 IST
New Delhi, Aug 1
1 : As chilling details emerge about the raid by "specialist Pak troops" near Sarla post on the Indian side of Line of Control in Poonch sector, it appears there was failure in command and control both at the unit and brigade levels of the Indian army. Moreover, the bulletproof vests which the martyred jawans were supposed to wear did not work, sources said.
Three of the martyred jawans were shot point blank in their chests. They were either not wearing the standard bulletproof jackets, or the jackets simply did not work, sources revealed.
The fourth jawan was shot between his eyes by Pak attackers. The fifth jawans was shot both in the upper and lower limbs and he died of multiple gunshot wounds.
The lone survivor Sambhaji Kute is still in the ICU, battling for his life, and his statement will be crucial to piece together details on that fateful night near the Rangad da Nallah.
The Rajouri-based 25 Division commander, a two-star general,  is conducting the probe.
Sources said, Pakistani special services group assailants probably used silencer-fitted assault weapons to kill the jawans.
Sambhaji Kute was lucky to have escaped with wounds.
The probe will also take into account the possibility of the five jawans on patrol taking a nap at the ambush point, sources said.
Questions are also being raised was to why the local unit commander did not resort to mortar and artillery firing when the killings of five jawans came to notice.
Army chief Gen Bikram Singh had, after the January 8 cross-border raid, in which one jawan was beheaded, had clearly told local commanders to strike back with fury if such raids were repeated, but the local commanders did not.
"What stopped you from retailiating with artillery and mortar fire" was the question posed by the Army Chief  when he took a meeting of formation commanders in Nagrota soon after the killings of five army jawans.  There was no reasonable answer.