Lone zebra in Odisha Nandan Kanan zoo dies
Bhubaneswar: Odisha's famous Nandan Kanan zoo at Barang has lost its lone zebra on Tuesday.The zebra, aged 10 years, was born on May 18, 2002 to a male zebra Shankar and a female Vanita. On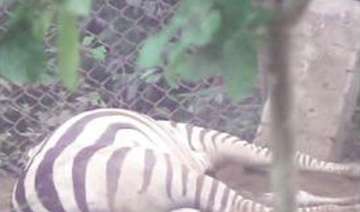 India TV News Desk
January 07, 2015 18:35 IST
Bhubaneswar: Odisha's famous Nandan Kanan zoo at Barang has lost its lone zebra on Tuesday.
The zebra, aged 10 years, was born on May 18, 2002 to a male zebra Shankar and a female Vanita. On June 7 last year, the zebra suddenly convulsed inside its enclosure no. 34. The animal was given vitamin and preventive inoculations.
The zebra recovered but it found it difficult to stand on its hind legs.
The animal used to limp while walking, and was finding it difficult to stand up after waking up. The zoo's technical and health experts were consulted, and its blood, stool and urine samples were sent for tests.
Experts concluded that the animal was suffering from osteoporosis. The zebra was given vitamin, iron and preventive injections.
Its body has been sent for post mortem.