Madhuri Gupta allowed to visit Ajanta, Ellora caves
New Delhi, Apr 26: Suspended Indian diplomat Madhuri Gupta, facing trial for allegedly supplying classified information to an ISI agent during her posting in Islamabad, was today allowed by a Delhi court to visit heritage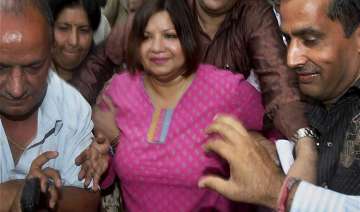 PTI
April 26, 2012 23:12 IST
New Delhi, Apr 26:
Suspended Indian diplomat Madhuri Gupta, facing trial for allegedly supplying classified information to an ISI agent during her posting in Islamabad, was today allowed by a Delhi court to visit heritage sites including Ajanta and Ellora caves.
Additional Sessions Judge (ASJ) Pawan Kumar Jain allowed Gupta's plea to go to Aurandabad on a seven-day trip to visit Ajanta, Ellora, Elephanta caves and Khandala with her family members from June 15 to June 21.
"The next date of hearing in the case is June 6 and 7.  Thus, no prejudice will be caused to the proceedings of the case if accused be permitted to visit the said places as per the schedule mentioned in the application. Accordingly, permission is granted," the ASJ said.  
Gupta, 55, in her plea, sought permission to visit the UNESCO World heritage sites of Ajanta, Ellora as well as Elephanta caves along with her family members from June 15 to June 21.
Gupta was granted bail on January 10 after having spent.