Maharashtra Assembly disrupted over Damanganga water-sharing with Gujarat
Mumbai: The issue of transfer of surplus water from Damanganga basin through the Damanganga-Pinjal and Par-Tapi-Narmada link project figured in the Maharashtra Assembly today with Water Resources Minister Girish Mahajan assuring the members that not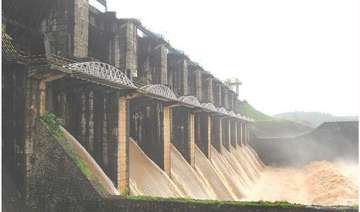 PTI
April 09, 2015 18:05 IST
Mumbai: The issue of transfer of surplus water from Damanganga basin through the Damanganga-Pinjal and Par-Tapi-Narmada link project figured in the Maharashtra Assembly today with Water Resources Minister Girish Mahajan assuring the members that not a single drop of water from the state's share would be given to neighbouring Gujarat.
The House saw heated exchange of words between Opposition and treasury benches following which Speaker Haribhau Bagde issued directives for a presentation on the project to be made to members of both Houses in the central hall.
NCP legislator Chhagan Bhujbal squatted in the well demanding the government's statement on how it proposes to resolve the issue of 133 tmc water from the state's share flowing into Gujarat.
Bhujbal said he had been demanding a response from the government ever since the Budget session began and still there was been no statement. The Budget session ends tomorrow.
The MLA raised the issue after the Question Hour saying that there was no clarity on how the water from the state's share would be retained instead of allowing it to flow into Gujarat.
He said the state government's response has been misleading and it has not taken steps to make a presentation on the issue despite the session ending tomorrow.
Bhujbal was supported by his legislator son Pankaj, Jeeva Pandu Gavit (CPM) and Amita Chavan (Congress) who displayed banners and shouted slogans.
Leader of Opposition Radhakrishna Vikhe Patil also said that despite the session ending tomorrow, there was no clarity on the government stand.
BJP legislator Yogesh Sagar said government should explain the issue completely since it was important. Shiv Sena MLA Gulabrao Patil said the issue of water going to Gujarat was a matter of concern for North Maharashtra.
Bhujbal demanded to know what steps will be taken to save 133 tmc water for Maharashtra. To which, Mahajan said the water sharing treaty has not been signed as the Detailed Project Report (DPR) is not ready.
"The state's share of water will not be given to anybody," he said and urged the Opposition not to politicise the issue.