'Make In India' will reap fruits in next ten years: Vijay Bhatkar
Mumbai: The ambitious 'Make in India' programme, launched by Prime Minister Narendra Modi last year, will yield results in the next ten years and countries like the US and Japan will then seek technological knowhow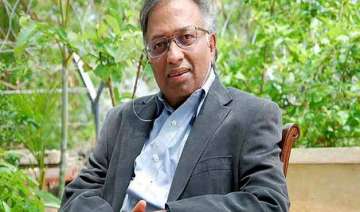 PTI
January 07, 2015 9:40 IST
Mumbai: The ambitious 'Make in India' programme, launched by Prime Minister Narendra Modi last year, will yield results in the next ten years and countries like the US and Japan will then seek technological knowhow from India, noted IT scientist Vijay Bhatkar said on tuesday.
Bhatkar was speaking at a symposium on 'Innovate and Make In India' at the 102nd Indian Science Congress underway at the Mumbai University's Kalina campus.
The five-day annual event concludes today in the presence of Railway Minister Suresh Prabhu and Uttar Pradesh Governor Ram Naik.
"PM Narendra Modi has given the Make in India mantra. Many people feel that this dream won't succeed, but India has over the years made many impossible things possible," Bhatkar said.
"The 'Make In India' dream will be a reality in ten years. If science, technology and manufacturing sectors work together, it is possible to achieve this dream," he added.
Citing scientific progress in India since Vedic era, he said India has become the hub of research and development in the world.
No company can survive without research and development. Young scientists should look for new developments and patent them.
According to Bhatkar, India is now working on the 5G technology in telecom sector.
Pramod Chaudhari, Executive Chairman of Praj Industries, said he did not agree with the contention about benefits of large industrial areas. More employment opportunities are available in small industrial sectors, he added.
There is a need to formulate a policy on natural resources, he said.
Ravi Pandit, the Co-founder, Chairman and Group CEO of KPIT Technologies, spoke on non conventional energy resources and environmental conservation.
After the event, Bhatkar told reporters that in the times ahead, cow will be the focus of research.
"India will become the hub of scientific innovation and development in the next few years and provide the solutions to other countries," he said.