Make short service commission more attractive: Army chief
New Delhi: The Army has proposed to the Government to make the Short Service Commission (SSC) more attractive to bridge the widening recruitment gap between the officers in the permanent commission and the SSC, Army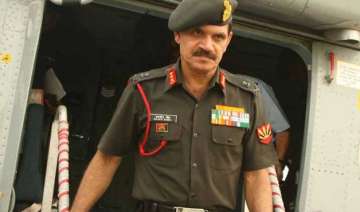 PTI
January 13, 2015 23:39 IST
New Delhi: The Army has proposed to the Government to make the Short Service Commission (SSC) more attractive to bridge the widening recruitment gap between the officers in the permanent commission and the SSC, Army chief General Dalbir Singh said.
"At present the ratio (between the permanent commissioned and short service commissioned officers) is squeezed, undoubtedly. There is a shortfall and that is because SSC is not as attractive as the permanent commission," Gen Singh told reporters during his annual media briefing here today.
He said at present the ratio stands at one SSC officer over 4.7 permanent commissioned officers, and added that the "desirable" ratio would be having one SSC officer over 1.1 permanent commissioned officer.
"We are looking towards this. There is a problem. There is shortage of people volunteering for short service commission," Gen Singh said, adding all the vacancies were not being filed up at the Officers Training Academies at Gaya and Chennai.
"We have already taken up the case (with the Government) to make this more attractive."
The National Defence Academy (NDA) has more cadets, 2070 than its capacity of 1950, he said, adding the Army's proposal was now with the Finance Ministry for its consideration.
Gen Singh said there has been a major improvement in the quality of rations, clothing and stores over the last year, however much more needs to be done.
'"In order to meet the growing requirements for married accommodation, construction of approximately 70,000 dwelling units with modern amenities is being planned under MAP III this year. Soldier empowerment, improved health facilities and quality education for the children of our personnel will always remain high on my list of priorities," he said.
Besides, a career transition plan is being worked out in concert with the government and corporate houses with a view to mobilise Army's veterans in nation building, he said.
The aim is to improve opportunities of a second career for retired personnel, who are a highly trained and disciplined pool of experience and knowledge and have given their best years in the service of the nation, Gen Singh said.