Mamata demands probe into bank accounts of all CPI-M leaders
Kolkata, July 13: West Bengal Chief Minister Mamata Banerjee yesterday demanded a comprehensive probe into the bank accounts held by all CPI-M leaders following reports that crores were deposited in an account allegedly in the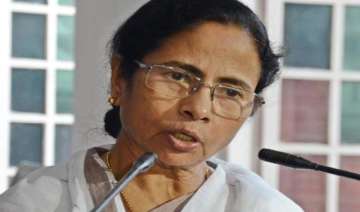 IANS
July 13, 2013 7:19 IST
Kolkata, July 13:
West Bengal Chief Minister Mamata Banerjee yesterday demanded a comprehensive probe into the bank accounts held by all CPI-M leaders following reports that crores were deposited in an account allegedly in the name of two prominent Marxist leaders.
Addressing a panchayat poll rally in Burdwan district, Banerjee wondered how much money the Communist Party of India-Marxist (CPI-M) leaders could have stashed in banks abroad when they held such huge amounts in accounts within the country.
"How were such huge sums deposited in accounts held by individuals? And can you imagine when they have crores in banks in the country, how much they may have in hidden accounts abroad?" Banerjee said.
"I want a comprehensive probe into the bank accounts held by all CPI-m leaders and former ministers. We must know the source of the money," she said.
The report in a largely circulated Bengali daily alleged that the account, which showed the address of the two CPI-M leaders - one of them a top party functionary and another a former minister - as the state party headquarters 31, Alimuddin Street showed Rs.16 crore in deposits till April 23.
The CPI-M leaders, however, claimed that the account was for the party and the money in the account was the levy given by party workers.
Attacking the CPI-M, Banerjee said: "They had termed me as a thief. Now it is for all to see who is the thief".
The chief minister said in contrast she was a regular income tax payer and led a spartan lifestyle.
"I gave away all the money I got by selling my paintings to my party Trinamool Congress' mouthpiece "Jago Bangla". I don't have any money in my account."