Mamata Named Among World's Most Influential People
New York, Apr 18: West Bengal Chief Minister Mamata Banerjee has been named among the 100 most influential people in the world by the prestigious Time magazine in its 2012 list which also includes US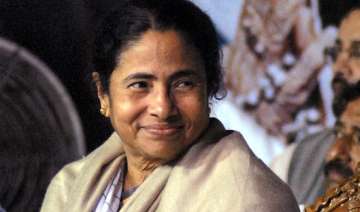 PTI
April 18, 2012 18:49 IST
New York, Apr 18:
West Bengal Chief Minister Mamata Banerjee has been named among the 100 most influential people in the world by the prestigious Time magazine in its 2012 list which also includes US President Barack Obama, Secretary of State Hillary Clinton and billionaire investor Warren Buffet.
Apart from Banerjee, advocate Anjali Gopalan, who works for the rights of gays and the transgendered in India, is the only other Indian in the list released by the magazine today. The 2012 list is topped by American basketball sensation Jeremy Lin.
In recent days, Banerjee's government has been criticised for choice of newspapers for state and state-aided libraries and a professor's arrest over circulation of a cartoon featuring the chief minister.
Time said Banerjee, 57, spent years struggling on the margins but ultimately she proved to be the "consummate politician."
"Though much of Indian society remains hidebound in patriarchy and tradition, strong women still prevail in the nation's political life. Mamata Banerjee rose to the fore last year when she and a movement she built from the grassroots wrested control of her home state of West Bengal, ending three and a half decades of sclerotic communist rule," Time said.
Referred to by her supporters as 'Didi', Banerjee was labelled by critics as a "mercurial oddball and a shrieking street fighter".
Through successive elections, she steadily expanded her power base while chipping away at those of her opponents, Time said adding that her lower-middle-class background was no obstacle in a country "notorious for its dynasties".
"She out-Marxed the Marxists. And as chief minister of her home state, she has emerged as a populist woman of action - strident and divisive but poised to play an even greater role in the world's largest democracy," the magazine said.
On Gopalan, 54, Time said through her work at the Naz Foundation, she has done more than anyone else to advance the rights of gays and the transgendered in India, successfully petitioning the courts to get rid of a British-era law against sodomy.
"Gopalan has brought about a revolution in the status of sexual minorities in India - and has done so joyously, dancing," it said.
The list comprising people "who inspire us, entertain us, challenge us and change our world," includes Pakistan's first Oscar winner filmmaker Sharmeen Obaid Chinoy, Facebook COO Sheryl Sandberg and Chief Justice of Pakistan Iftikhar Chaudhry.
In his commentary on Chaudhry for Time, former Pakistani cricketer and politician Imran Khan said he has become the first head of Pakistan's Supreme Court to attempt to bring the powerful to justice, taking on the Prime Minister and the President in an effort to hold them to account.
"It's not just the politicians either. Chaudhry, 63, is also seeking to take Pakistan's intelligence agencies to task for their human-rights abuses," Khan said in the magazine.