Man Throws Black Ink At Swami Ramdev, Bashed Up By Ramdev Supporters, Arrested
New Delhi, Jan 14: A man identified as Kamran Siddiqui today threw black ink at the face and clothes of Swami Ramdev, as he was concluding his press conference on black money. Janata Party chief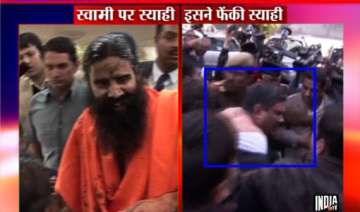 India TV News Desk
January 14, 2012 15:59 IST
New Delhi, Jan 14: A man identified as Kamran Siddiqui today threw black ink at the face and clothes of Swami Ramdev, as he was concluding his press conference on black money. Janata Party chief Dr Subrahmanian Swamy was also present.
 
The man was promptly  overpowered by Swami Ramdev's supporters and was given a sound bashing before being handed over to police.

 
Later an unruffled Swami Ramdev told mediapersons: 'I want black money, not black ink. One has to pay a price for speaking the truth."
 
"Mere throwing of  black ink does not sully one's character.
 
"We have fought the battle against black money with full strength and the battle will continue, come what may. We won't be afraid", said the yoga guru.
 
Swami Ramdev said the truth about this incident will soon come before the people of the country.
 
On the need for security, Swami Ramdev said: "I am a faqir (mendicant). I am not against anybody. So, I do not want to speak about security."
The ink-thrower Kamran Siddiqui is the general secretary of an NGO called Real Cause with its registered office in Okhla, Delhi, and is a running dispensary in Zaqir Nagar.
 
The website of this NGO Real cause specialises in free legal advice, free dispensary, imparting education, and also runs a craft center for poor women.
 
Mohd Yunus Siddiqui is the adviser and co-ordinator of this NGO.