Man who conquered Mt Everest faces social boycott in his own village
New Delhi: In a shocking incident, a 30 year old man Rahul Yelange, who was part of the team that successfully climbed Mount Everest in May 2012, was boycotted by elders of his own Budruk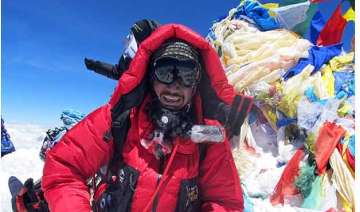 India TV News Desk
January 16, 2015 14:50 IST
New Delhi: In a shocking incident, a 30 year old man Rahul Yelange, who was part of the team that successfully climbed Mount Everest in May 2012, was boycotted by elders of his own Budruk village falling in Raigadh district of Maharashtra.
In March 2014, Rahul and his wife Pournima returned to their village and started dairy farming and imparting mountaineering skills to young boys and girls.  The village women used to taunt Pournima as she wore jeans instead of sari and did not wear the traditional mangalsutra or put bindi on her forehead.
The couple had to face a lot of problems as they were not allowed to attend any functions of the village temple, neither were they allowed to fetch water from the village tap. As a result of the social boycott, Rahul had to go uphill to a water reservoir to collect water for his cattle.
Rahul who has scaled more than 16 peaks as mountaineer says he finds it difficult to understand why they were socially boycotted. Is it just because they were an educated and modern couple trying to go back to their roots, asks an exasperated Rahul .
The matter took a serious turn when 38 families from the village wrote to gram panchayat that they should not be held responsible if Rahul's cattle shed catches fire or faces any adversity. Rahul's wife Pournima who is a cyber law expert recalls how villagers used to pass lewd comments on her as her clients came to meet with her to discuss court cases.
The villagers are also sore with the couple for opting inter-caste marriage.The gram panchayat, however, has admitted that there has been some misunderstanding with Rahul and they hope that the matter would be resolved at the earliest.
Social boycott of families remains a big problem in Maharashtra as only  in Roha taluka of Raigad, some 22 families of Dongri village had faced social  boycott for varied  reasons.